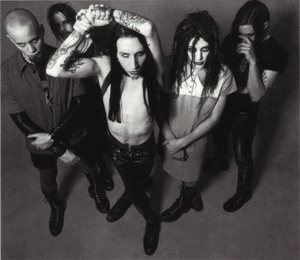 Marilyn Manson is an American rock band formed by namesake lead singer Marilyn Manson and guitarist Daisy Berkowitz in Fort Lauderdale, Florida.
Music
It has released ten studio albums, one live album, one compilation album, two extended plays, twenty-nine singles, eight promotional singles, six video albums, and forty music videos.
History
Originally named Marilyn Manson & the Spooky Kids, they gained a local cult following in South Florida in the early 1990s with their theatrical live performances. In 1993, they were the first act signed to Trent Reznor's Nothing Records label.
Stage Names
Until 1996, the name of each member was created by combining the "first name of a female sex symbol" and the "last name of a serial killer," for example Marilyn Monroe and Charles Manson. Their lineup has changed between many of their album releases. The current members of Marilyn Manson are the eponymous lead singer (the only remaining original member).
Members
Marilyn Manson - Brian Warner, known professionally as Marilyn Manson, formed Marilyn Manson & the Spooky Kids with Daisy Berkowitz in 1989. He has been the lead lyricist for every release by the band, and since becoming a professional musician, Manson has become increasingly involved in composing and producing the band's music. Manson's controversial exploits, from self-mutilation, sexual misconduct and an assortment of legal battles, have helped to establish the band as one of the most offensive major label acts today.
Brandon Pertzborn - Drummer introduced in 2019.
Juan Alderete - On November 5, 2017, Juan Alderete made his first appearance as the bass guitarist for the band replacing Twiggy who performed for the first tour leg of the Heaven Upside Down Tour.
Paul Wiley - On August 8, 2014 Paul Wiley made his first appearance as the band's second live guitarist.
Past Members
Chris Vrenna - American musician, Grammy-winning producer, engineer, remixer,
songwriter, programmer, and founder of the electronic band Tweaker. Vrenna played drums for the industrial/rock band Nine Inch Nails from 1989 until 1997, and was the keyboardist and drummer of the American rock band Marilyn Manson from 2004 until late 2011.
Daisy Berkowitz - (deceased) Scott Putesky, better known as Daisy Berkowitz, formed Marilyn Manson & the Spooky Kids with Marilyn Manson in 1989. He was the lead composer for all of the band's early cassettes (many of which he also produced), and played guitar for the band until his departure in 1996, over irreconcilable differences with the rest of the band, particularly Manson. Putesky later obtained the rights to 21 Spooky Kids cassette recordings in a lawsuit against Manson, which were digitally remastered and released on the Lunch Boxes & Choklit Cows compilation. He died in 2017 from colon cancer.
Fred Sablan - He became Marilyn Manson's bassist in July 2010 until June 2014,
Gidget Gein - (deceased) Died in 2008 from a fatal drug overdose.
Gil Sharone - On February 8, 2014 drummer Gil Sharone announced that he would be recording with Marilyn Manson on their new album. Sharone is a skilled artist, session player, and drummer clinician. He has previously played or recorded for Fishbone, Dillinger Escape Plan, OTEP, Dave Wakeling, Maynard James Keenan, Chino Moreno, HR of Bad Brains and Eek-A-Mouse to name a few. After doing +44, Sharone's momentum continued and he was asked to work with Dillinger Escape Plan as well as Maynard James Keenan in Puscifer. On March 27, 2019, Gil Sharone announced he's leaving the band.
Ginger Fish - Kenneth Robert Wilson (born September 28, 1965), better known by his stage name Ginger Fish, is an American drummer primarily known for playing drums for Marilyn Manson from 1995–2011. Like Marilyn Manson, which combines the names of an iconic beauty with a serial killer, his name combines those of Ginger Rogers and Albert Fish.
John 5 -
Madonna Wayne Gacy - Stephen Gregory Bier Jr. (born March 6, 1964, Fort Lauderdale, Florida), formerly known by his stage name Madonna Wayne Gacy and by the nickname Pogo (John Wayne Gacy's clown name), is the former keyboard player for Marilyn Manson, from 1989 to 2007. His stage name came from the names of the singer Madonna and the serial killer John Wayne Gacy.
Olivia Newton Bundy - Brian Tutunick (born March 31, 1968) is an American musician, more famously known as Olivia Newton Bundy, and was the bassist and co-founder of the rock group Marilyn Manson until 1990, when he was replaced by Gidget Gein. His stage name was created by mixing the names of Olivia Newton-John, singer; and Ted Bundy, serial killer.[
Rob Holliday -
Sara Lee Lucas - Frederick Streithorst, Jr., (born June 17, 1970 in Fort Lauderdale, Florida) better known by his stage name Sara Lee Lucas, is the original drummer for Marilyn Manson. He has also performed as "S.L. Lucas" or simply "Lucas." His stage name is derived from American serial killer Henry Lee Lucas and baked goods company Sara Lee. After leaving Marilyn Manson in 1995, he performed in many other industrial bands using tribal style of drumming and experimental digital percussion. He also became active with his mastering company, Masterlab.
Tim Sköld - (born 14 December 1966 as Thim Sköld) is a Swedish musician and record producer, who in addition to producing solo work, has also collaborated with multiple musical groups including Shotgun Messiah, KMFDM, Marilyn Manson, and Motionless in White. Sköld officially joined Marilyn Manson in 2002 after the departure of bassist Twiggy Ramirez. At this time, not only was Sköld the bassist for the band, but he was also producing, editing, creating artwork, electronics, programming drums and beats, playing guitar, keyboards, accordion, and synthesizer bass for the album The Golden Age of Grotesque. On 9 January 2008, Marilyn Manson posted a bulletin on MySpace which reported that Sköld had left the band and former bassist Twiggy Ramirez had returned to take his place.
Twiggy Ramirez - Bassist Jeordie White, also professionally known as Twiggy Ramirez, was the replacement for Gidget Gein, whose heroin overdose on Christmas Eve 1993 rendered him hospitalized. Ramirez modeled his signature look after both Gein and his girlfriend of the time, Jessica Fodera, known professionally as Jessicka. Ramirez would become one of the lead composers of the band's material, but in 2002 he left Marilyn Manson, also under amicable terms. After his departure, Ramirez auditioned for several bands including Queens of the Stone Age and Metallica, before joining A Perfect Circle, and in 2005, he joined Nine Inch Nails as live bassist. 2005 also saw the debut of a new project, Goon Moon. On January 9, 2008, a press release was posted online announcing that Twiggy Ramirez had rejoined the band as bassist, while guitarist Tim Skold had left Marilyn Manson and was replaced by Rob Holliday. On June 25th, 2014, in the lead up to the band's 2014 summer Tour, Twiggy revealed his move back to bass by posting B A S S over several days via his twitter account. However, Twiggy left the band on October 24, 2017.
Tyler Bates - (born June 5, 1965) is an American musician, producer, and composer for film, television, and video game scores. Much of his work is in the action and horror film genres, with films like Dawn of the Dead, 300, Sucker Punch, and the John Wick franchise. He has collaborated with directors like Zack Snyder, Rob Zombie, Neil Marshall, William Friedkin, Scott Derrickson, James Gunn, Chad Stahelski and David Leitch. In addition, he is also the former lead guitarist of the American rock band Marilyn Manson, and produced its albums The Pale Emperor and Heaven Upside Down.
Zim Zum - Timothy Michael Linton (born June 25, 1969), more commonly known as Zim Zum, is an American rock musician-songwriter and former guitarist for Life, Sex & Death and Marilyn Manson (1996–1998).
Zsa Zsa Speck - Perry Pandrea, better known by the stage name Zsa Zsa Speck, is a musician. He was the vocalist of Collapsing Lungs, and has also previously been a member of Marilyn Manson & the Spooky Kids. His Marilyn Manson pseudonym is derived from Hollywood actress Zsa Zsa Gabor and American mass-murderer Richard Speck.
Mark Chaussee - He joined Marilyn Manson in autumn 2004 replacing the recently departed John 5, as a temporary live guitarist (2004–2005) for the Against All Gods world tour in support of Marilyn Manson's greatest hits collection Lest We Forget (2004), where tours proceeded from October, 27th, 2004 till August, 31, 2005.
Associated Members
Andy Gerold -
Daniel Fox -
Jason Sutter -
Spencer Rollins -
Wes Borland - Best known as the current guitarist and backing vocalist of the American rap rock band Limp Bizkit and as the lead vocalist and guitarist of the alternative and industrial rock band Black Light Burns and the metal band Big Dumb Face.
Community content is available under
CC-BY-SA
unless otherwise noted.