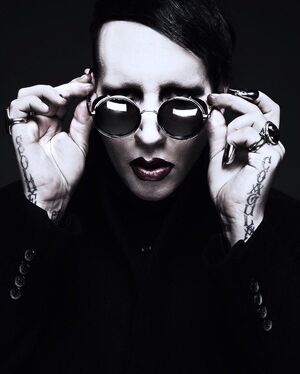 Brian Hugh Warner (born January 5, 1969), better known by his stage name Marilyn Manson, is an American singer, songwriter, record producer, actor, visual artist, director, and former music journalist. He is known for his controversial stage persona and image as the lead singer of the band, Marilyn Manson.
Marilyn Manson's net worth is around $30 million as of April 2020.
Stage Name
His stage name, Marilyn Manson, is formed by a juxtaposition of two opposing American pop cultural icons: the infamous cult leader Charles Manson, and the famous starlet, Marilyn Monroe.
Personal History
Marilyn Manson was born as Brian Warner in Canton, Ohio. He is the only child of Barb (born Wyer) and Hugh Warner. As a child, he attended his mother's Episcopalian church, though his father was Catholic. Warner attended Heritage Christian School from first grade to tenth grade. He later transferred to Glen Oak High School in Canton and graduated from there in 1987. In 1990, Warner became a student at Broward Community College, Florida. He was working towards a degree in journalism and gaining experience in the field by writing music articles for a South Florida lifestyle magazine, 25th Parallel. He then met several of the musicians to whom his own band would later be compared.
He is famous for both his shocker music and his eccentric lifestyle. From cutting himself on stage to being blamed for Columbine massacre, Manson's life is full of controversies. He has always challenged every boundary whether it's related to religion, society, or authority. He is vocal about his views, some of which are misinterpreted by society
Manson was previously married to burlesque dancer, Dita Von Teese (2005 - 2007, divorced).
His mother died in 2014, and his father died in 2017.
Marilyn Manson
In 1989. Brian Warner formed Marilyn Manson & the Spooky Kids with Daisy Berkowitz. Manson has been the lead lyricist for every release by the band and, since becoming a professional musician, he has become increasingly involved in composing and producing the band's music.
Manson's controversial exploits, from self-mutilation, sexual misconduct, and an assortment of legal battles, have helped to establish the band as one of the most offensive major label acts. It has a long legacy of being depicted in the media as a detrimental influence on young people. The seemingly outrageous styles for which he models and the controversy surrounding his lyrics have led to either public appeal or outrage.
Vocal Style
Manson predominantly delivers lyrics in a melodic fashion, although he invariably enhances his vocal register by utilizing several extended vocal techniques, such as vocal fry, screaming, growling, and crooning. His voice has five different tones, which mixing engineer Robert Carranza discovered can form a pentagram when imported into a phrasal analyzer. He possesses a baritone vocal type, and has a vocal range which can span more than four octaves. His lowest bass note of A1 can be heard in "Arma-Goddamn-Motherfuckin-Geddon", while his highest note, an E6 – the first note of the whistle register – can be heard on the Born Villain song "Hey, Cruel World...".[1]
Trivia
Height: 6' 1"
He and Johnny Depp are long time friends. They even have matching back tattoos, and they have performed together on multiple occasions. Manson is godfather to Depp's daughter, Lily-Rose Depp.
In 2007, he launched "Mansinthe" - his own brand of Swiss-made absinthe. The label on the bottle features one of Marilyn Manson's paintings, When I Get Old.
The Long Hard Road Out of Hell is an autobiography of Marilyn Manson, co-authored by Neil Strauss. It was released on February 14, 1998.
He attended a Christian school from first grade to tenth grade.
During a 2017 performance in NYC, a stage prop fell and broke his leg in two places. He has a permanent steel rod in his leg.
He is a self-proclaimed "cat person," although he's had dogs as pets, too.
He's said that if he ever had a child, he would prefer it to be a boy.
He has smoked human remains.
He has Wolff-Parkinson-White syndrome, an erratic, rapid heartbeat.
He had surgery to fix drooping ear lobes.
His music was wrongly blamed as a factor behind the 1999 Columbine High School shooting.
In 2015, he claimed that he has sex at least 5 times.
He has stated that one of his ex-friends would use an UV/blacklight to see if he was unfaithful.
Manson posed nude for photos which were published in the March 1999 issue of Honcho.
Manson is a fan of Anton Lavey and an advocate of the writings of Aleister Crowley and Friedrich Nietzsche.
One of his favorite movies is 1971's Willy Wonka & The Chocolate Factory.
TV shows that he's watched include Twin Peaks and Breaking Bad.
In 2010, Dutch magazine Hitkrant featured Manson as the devil card, 15, a part of their celebrity tarot.
Out of all the false rumors about him, Manson has said the one about the Wonder Years (that he played Paul Pfeiffer) pisses him off the most.
In his early days, he was working towards a degree in journalism, along with writing articles for a music magazine, 25th Parallel
He has over 450 self-inflicted scars on his body.
He has at least 27 tattoos.
Related Pages
References
Community content is available under
CC-BY-SA
unless otherwise noted.